Faith Ringgold
Unity Makes Us Stronger (2022)
Description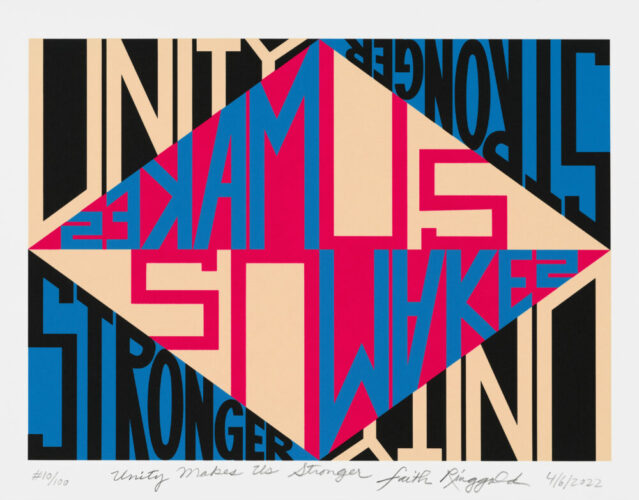 Unity Makes Us Stronger (2022)
978-3-948318-18-5
Four color screen print. 23 x 35.5 mm; 11 x 14 inches (sheet), full margins.
Edition of 100. Each signed, dated and numbered in pencil, bottom margin, printed by Du-Good Press, New York (USA).
Published by Weiss Publications Berlin (Germany).
Unity Makes Us Stronger is a limited-edition screen print that manifests Faith Ringgold's positions on political and social issues and serves as a powerful affirmation. Since the 1960s, Ringgold has produced distinctive graphic works that convey their powerful and significant content readily and clearly. The vivid colors and bold print technique of this print emphasize the dynamic and timely nature of Ringgold's original work.
Unity Makes Us Stronger is based on an original felt pen and crayon drawing by Faith Ringgold from 2010 in a composition she also employed in early paintings, collages and posters such as her feminist activist works from the 1960s and 1970s. The image is composed entirely out of geometric colored areas and letters designed by Ringgold, a technique she developed inspired by Kuba textile designs. In all these works, words are shaped into eight triangular sections and face in different directions achieving what Ringgold calls a "poly-rhythmical space," where content and form take up the entire image.